Best time of year to visit Cyprus
I wanted to do a short blog on the best time of the year to visit us here in Cyprus but as I sat down to write, I realised that it was quickly morphing into…
an article about the weather because let's face it, it's often at the core of our holiday choices.
Apparently, there are six elements to the weather:
temperature
atmospheric pressure
wind
humidity
precipitation
cloudiness
and together they describe the weather at any given time.
There are a whole bunch of websites you can google that will give you exact temperatures and rain levels for every month of the year but I'm a simple girl and so for me, it's hot, cold, warm, sunny, cloudy, wet, windy or there's a storm which combines several of the above.
In Cyprus, we experience all of the elements but at Adventure Angels Tours, we tend to gauge our weather by the 'can we ride or not' weather system. We can categorically say that the weather in Cyprus is great most of the year with our
300 – 340 days of yearly sunshine.
So, when choosing the best time of the year to visit, it all depends on the 50 shades of warm that you like and what you want to do when you get here.
Cyprus' Mediterranean climate is characterised by our long, hot summers and mild, wet-ish winters with beautifully warm weather in-between so you can't really go wrong whenever you decide to come.
For me personally, I love the spring and autumn as it's neither too hot nor too cold. Compared to many other countries we don't really get very cold here, we just get chilly and this is mainly because we're not used to it.
Living and riding here definitely softens us a little and whilst it's easy to scoff "If you don't ride in the rain, you don't ride." for us it's more a case of 'why on earth would we'? With so many great days to ride we're happy to sit out the few rotten ones, plus, it's safer of course. Autumn also brings with it the chance to outride the bad weather. It might be a small island but we often have really isolated weather. Most of us local riders have had the thrill of out riding a storm watching it disappear in our mirrors, watching a spectacular light show on the way home from a ride or changing direction en-route to follow the sun – all with the goal of getting home untouched and dry.
January and February are our colder months but rarely do the temperatures dip into single figures during the day. The evenings are longer but this year we have seen a particularly spectacular winter so far – I'm probably going to seriously jinx it now – with riding days of 17 – 21 degrees most weeks and clear blue skies.
It's only as you get up into the mountains of Troodos that the temperature really drops, so with many other places to go, we tend to leave the high mountain roads until it warms up a bit.
What we can't do in Jan and Feb is guarantee the weather like we can most of the rest of the year – for riding that is – but rider or non-rider there are still things to be doing in Cyprus in the winter, such as:
skiing or snowboarding in the Troodos mountains.
Troodos is a fairly small mountain by ski resort standards and as quality skiers are always saying – about 500 meters too low to be awesome, but I love it, and having travelled to many ski resorts worldwide I find it quaint, plus it's only 45 minutes away from the beach.
Overall, I find it vibrant, colourful and charming and love to take the dog for a walk in the snow (one of his favourite things to do) and go sit on a wooden veranda with great music playing, a hot chocolate in hand and watch the world go by.
By March the land is transformed into a green and colourful bed of tiny, wildflowers, blooming shrubs and plants including over 40 species of Orchid on the ridge-lines and hillsides of the Akamas headland.
The island's air is filled with aromas of fruit and flowers.
If you're used to seeing Cyprus after a hot summer you will amazed at how green our Island is and with warmer days you can walk along the coast or enjoy hikes deep into the forests, or you can visit some of the numerous ancient monuments of Cyprus and steep yourself in its history.
The days begin to open out with daylight saving, generally the last weekend of March with the clocks going forward and the evenings getting longer so we can ride later and later.
From the winter lows of 17°C to the average warm highs of 31°C+ in the summer.
The warmest month is August where it can reach the dizzying and ultimately sweaty heights of the 40's. Cyprus is close to south-west Asia making the region one of the warmest in the Mediterranean.
There is plenty to be said for getting up early and heading up to higher ground to escape the heat. As it doesn't get dark until around 8pm at the height of summer, there is plenty of time to explore all the wonderful mountain roads and villages.
If you love snorkelling, diving and boat trips then you can't beat July and August.
Summer is also the best time for sea turtles where you can swim with them in the bay. Many beaches are protected as the use of beaches for recreational purposes deprives turtles of their nesting grounds and so the west coast of the island provides these little creatures with some desperately needed solace away from the hustle and bustle. Where they are watched over and kept as safe as possible by Turtle watch.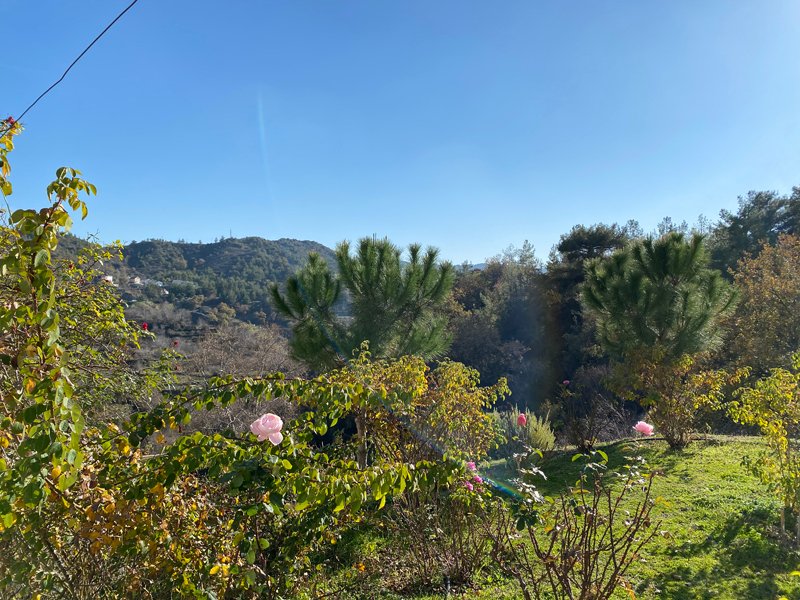 iIf you visit the beaches of Akamas and Chrysochous Bay in midsummer you cannot miss the signs and protective cages rising up out of the sand as hundreds of Loggerhead turtles and a few dozen Green turtles arrive to lay their eggs in peace.
Only a few, however, ever survive to adulthood.
There are many other beaches where this takes place and it's a privilege to sit quietly on an out of the way beach and watch these majestic creatures emerge from the water to lay their eggs.
The incubation period is somewhere between 60 and 90 days depending on the warmth of the sand and with a full moon guiding them to the water they hatch and make their way to the sea.
This can be an almighty struggle for some as they are so tiny that falling into a human footprint can be an almighty detour for them and it's hard to watch without wanting to give them a helping hand.
Often no bigger than the lens of your sunglasses, the journey to the sea imprints on them their ability, many years later, to come back to the very same beach they were born to lay their own eggs. making it necessary to resist the urge to help out.

This is called the geomagnetic imprinting hypothesis and states that these animals imprint on the magnetic field of their home areas when young and then use this information to return as adults years later.
Whether you are riding or having a beach holiday you'll need to wear light clothing and keep on top of your sun protection to keep your skin safe.
Please note that August is typically 'mediterranean', which sees all the locals on vacation at the same time. The last two weeks can be incredibly hot, chaotic on the roads and very noisy everywhere.
Autumn does change from year to year but if you had to hold me to it, I would say that Autumn really starts in October.
We'll still be riding in summer kit until late November and if we're really lucky late December.
If I'm out for a full days ride in December, I will likely swap my mesh textile for a leather jacket and maybe a long sleeve underneath, but that's about the only change I'll make until the New Year where I will start to add a thermal layer underneath.
The sea, though, is at its' warmest at this time of the year, as it's had all summer to heat up, and the beaches are wonderfully quiet.
We fall back into Autumn as the clocks go back at the end of October and it starts to get dark early. By winter it's dark from 4.30pm.
This year we are having a perfect winter, riding in light kit all the way through December, just adding a thermal under-layer for most of January.
Covid has kept us at home this year far more than the weather.
The beauty of Cyprus is being able to swim and go to the beach in the morning to enjoy the sun, and then head up to Troodos for skiing/snowboarding or respite from the heat in a mountain village taverna, depending on the time of year.
The locals have a theory about the weather. They believe that the weather here goes in seven year cycles, with five good winters and two bad. The last two years we have had awful winters and this year is awesome, so maybe there is some truth in it after all. If it wasn't for lockdown it would most certainly be a perfect Cyprus winter.
In short, it's always a good time to visit Cyprus. If you want to come riding with us, then anytime from end of March until the end of November pretty much guarantees amazing biking weather, and some of the best roads you'll ever ride.
Get booking!
We are offering a massive 40% discount for groups of 6 or more riders for the 2022 and 2023 seasons. So get your friends together and discover the joys of riding in Cyprus! These are strange times we are living in, so we would like to reassure you that any bookings...
read more